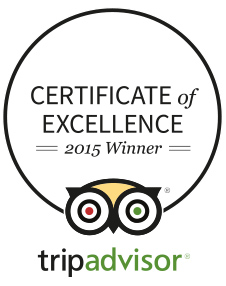 We are a TripAdvisor Certificate of Excellence winner as a result of the many wonderful TripAdvisor reviews. As well as the reviews here we also receive personal written thanks, some of which are included below:
"Thanks again for a wonderful weekend, a resounding success all round, weather notwithstanding. A beautiful house in beautiful location, and must compliment you on the fabulous gardens."
"I am writing to thank you for my birthday weekend at Northcourt. It was a fantastic time and was everything I hoped the celebration to be. I know without exception my friends thoroughly enjoyed themselves and felt very treated to be in such a beautiful home and garden – one who only came for Saturday night, had been staying at Quarr Abbey on retreat and thought he had come to heaven!
I thought you should know everyone was extremely complimentary about the quality of the duvet and bed linen – in fact several have asked me to find where you get them from as they want to replicate at home! The welcome pack & flowers were also a really nice touch with the cakes and coffee especially both being delicious & all the info about walks etc was really useful.  
Well done on running such a great place to visit – we will almost certainly be back!"
"I just wanted to write and say thank you for the wonderful weekend we spent at Northcourt House.  It was even more lovely than we expected.  Everyone had a ball. We are already hoping for a return visit but judging by the 2016 bookings we are going to have a job to get in in the holidays!"
"We have just had the most wonderful weekend at Northcourt Manor in honour of xxx's birthday, and we just had to thank you. Everything was perfect.  The kitchen was stocked beautifully; it is not often that there are enough cups, cutlery, bowls etc  and all in such great shape.  The house was warm and cosy (super heating system), the bedroom was bright and airy and as far as the bed and linen are concerned, we felt as though we were sleeping in a cloud.  We so enjoyed your gardens as well and the many nooks and crannies in it.
Thank you so much for all the work you must have to put in to maintain it as well as you do but let me reassure you that it certainly did not go unnoticed this past weekend."
"We all enjoyed our get-together at Little Northcourt and appreciated many aspects of the property, not least the lovely gardens, the wildlife and the peace and quiet.  Some of our party had not previously visited the island and were delighted with it.  There was even talk of a return visit!  We all enjoyed the catered food brought in by Debbie from St Helens, so thank you for this information and for making the ferry bookings."